Categories of Traffic Signs in India
In India, traffic signs are broadly split into three categories: mandatory signs, cautionary signs and informative signs.
1. Mandatory Traffic Signs
As the title suggests, this set of road traffic signs are obligatory for drivers to follow. The purpose of mandatory traffic signboards is the smooth functioning of traffic on the road. In fact, violating any mandatory traffic signs is punishable by law. Check out the mandatory traffic signs in India below.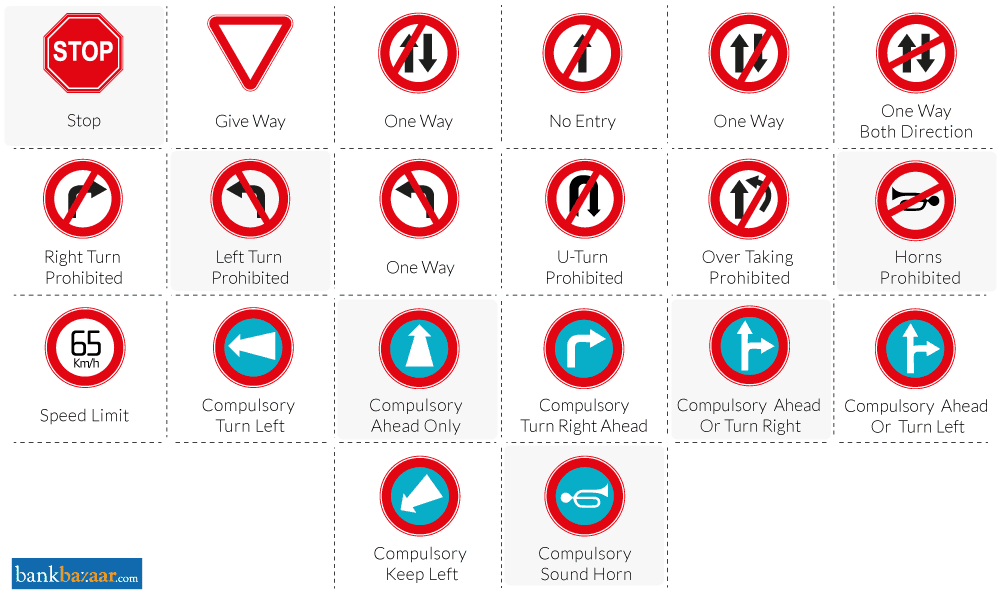 Source: Bank Bazaar
2. Cautionary Traffic Signs
The goal of cautionary traffic signs is to warn drivers of any potential threat on the road ahead, like road work, potholes, and speed bumps. While these things are not inherent, accidents could occur if one doesn't slow down their vehicle. Hence, you must take cautionary road traffic signs as seriously as the mandatory ones. They are displayed below.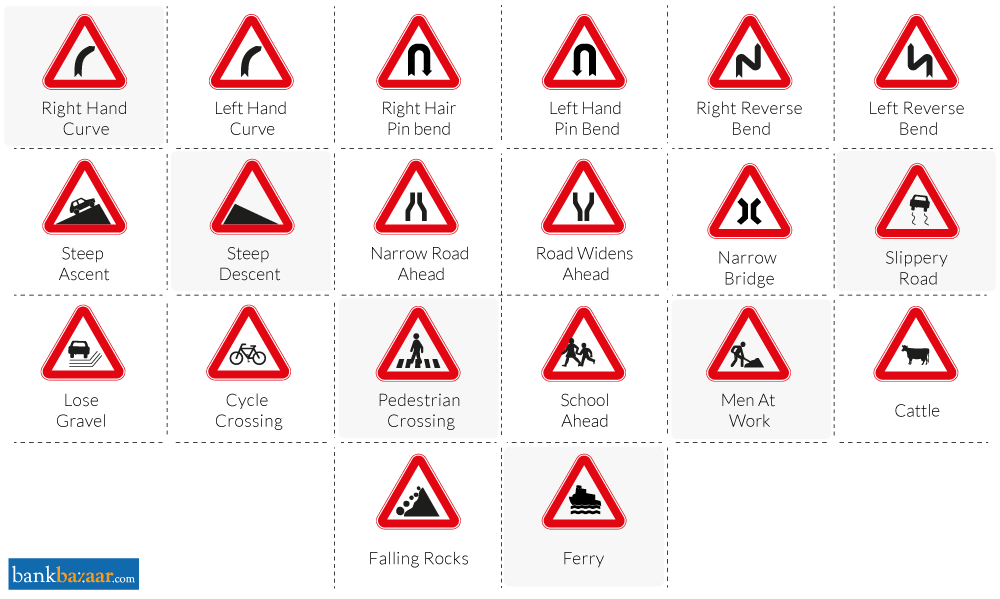 Source: Bank Bazaar
3. Informative Signs
Informative signs serve to aid any drivers without a map or knowledge of the facilities available in the area they are driving in. They can help guide drivers by offering directions or telling them about hospitals, public phones, and parking spots in the area. Informative signs are displayed below.
Source: Bank Bazaar
Traffic Rules in India
Traffic rules are officially listed in the 1989 'Rules of Road Regulations.' They are as follows:
Keep to your left if driving on a two-way street or road so that vehicles coming in the opposite direction can pass using the right lane smoothly.

If you want to turn left ahead, you must stay on the left side before taking a turn.

If you want to turn right ahead, you must be at the centre of the road and then gradually take a broad right turn.

When you are coming towards a road intersection, road junction, or pedestrian crossing, you must slow down your vehicle.

If being overtaken by a vehicle, you must not increase the speed of your vehicle or, in any way, prevent the vehicle that is attempting to overtake you.

Overtaking is prohibited in the following cases:
– If passing would, in any way, be dangerous for other travellers on the road.
– If passing is near a bend, hill, corner, or point, as it may lead to a critical accident without clear sight of the road in front.
– If the driver upfront has not signalled the driver behind.
– When trying to overtake a vehicle that's already being passed by the third vehicle.
For those driving two-wheelers, you and your pillion must wear a helmet.

Parking is not permitted on the top of a hill, footpath, and road for pedestrians. The same isn't permitted near traffic lights, a crossing on the road, the entrance of a building, or if it covers a fire hydrant.

Your temporary or permanent Vehicle Registration Number (VRN) must always be displayed on the front and back of your vehicle.

Only a single pillion is permitted per two-wheeler.

Drivers must make way for any cyclists on the road.

The head or tail lights of your vehicle should never be obstructed.

Driving in the reverse direction is punishable by law on a one-way road.

When overtaking another vehicle, one must not go beyond the yellow line.

One must respect the STOP sign on roads and not stop beyond the sign.

Honking should only be carried out if necessary.

When driving on a mountain or hill, your vehicle must be towards the right side of the road.

One cannot load the vehicle with certain goods, like Inflammable and explosive goods.

Overtaking must only be carried out from the right side.